Air Conditioning, Heating, and Electrical Services in Bald Head Island, Carolina Beach & Wilmington, NC
Phillips Air Care provides the Wilmington area with effective HVAC and electrical services. And it all comes with exceptional customer service!
Our Company History
At Phillips Air Care you're not just a customer, you're family. We strive to provide quality HVAC products and services, along with quality electrical services, while upholding the highest level of honesty and integrity to provide 100% customer satisfaction.
Our Goals?
To provide our clients with the industry's highest standards of products and services available. Treat all clients and team members with honesty and respect. Hire respectful, honest team members that share the same values as we do. Care for families like we care for our own, by providing afforable services and products. Listen to all of our customer's to provide the highest level of satisfaction and exceed their expectations.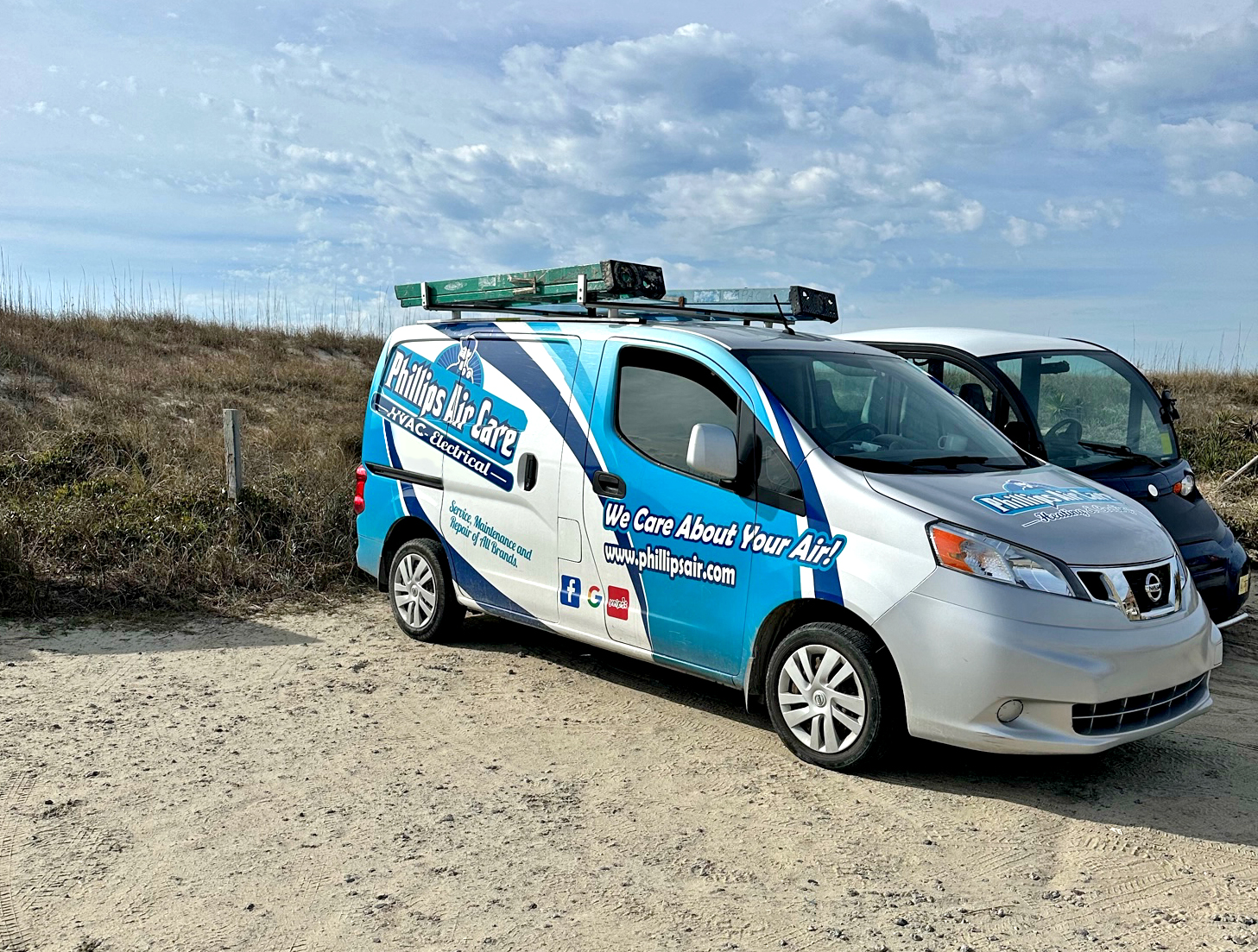 Why do your neighbors choose Phillips?
The number one reason customers come to us is we provide the same quality level of work and customer satisfaction each and every time. Along with providing our customers with affordable options, we strive to return your HVAC, electrical or plumbing as quickly as possible.
OVER 50 YEARS COMBINED EXPERIENCE
We pride ourselves on our experienced technicians, electricians and plumbers. They give our customers peace of mind knowing their problem will be fixed quickly, efficiently and in a cost-effective manner. Here are some of the services our expert employees perform:
     Air conditioning repair
     Air conditioning replacement
     Air conditioning maintenance
     Heating system repair
     Heating system replacement
     Heating system maintenance
     Residential electrical services 
     Commercial electrical services 
     Commercial HVAC services
Air Conditioning Repair, Installation and Maintenance
Repair and Maintenance: North Carolina springs and summers are hot and humid. Now is the best time to make sure your air conditioner or heat pump is ready for the heat by scheduling a tune-up with Phillips Air Care. Regular seasonal maintenance is the best way to keep your system running at peak efficiency, ensuring comfort and lower electric bills even through the hottest months.
HVAC System Replacement: sometimes it's better to replace your system altogether. If your AC is more than 10 years old and it is in regular need of repair, or if it seems to be over or undersized, you'll likely save money in the long run with a new, more efficient system. Contact us today for a free estimate!
HVAC System Financing: At Phillips Air Care, we understand that times are uncertain. That shouldn't stop you from keeping your family safe and comfortable as we're spending extra time at home. Phillips Air Care partners with lenders to provide the best financing available. Don't let finances keep you from learning more. Give us a call today and ask about financing for your new system.
Testimonials
"Recommend Highly"
Having worked with HVAC 12 years myself, I was particularly interested in what the serviceman did at my house. I recommend this business highly. The man was quick, concise, conscientious. He had a part needed right on his truck, traced and repaired a refrigerant leak quickly, and was, I think more than reasonable in billing. Good man working for a good company, in my estimation, I would give them a 5 star rating based on my experience.
- Jim W
"Great & Honest Company"
Great and honest company! I felt very comfortable with all of the work done at my home. They come out twice a year and tell me of any recommendations they may have and service our units.
- Melanie C
"Located Problem Very Quickly"
During the recent cold spell we had a problem with our gas fireplace. They sent a technician out within 24 hours. The technician was very professional and polite and had located the problem very quickly! Their price for the repair was very reasonable!
- Gary S.
"Went Above and Beyond"
In a time when receiving great customer service experiences are few and far in between. We were very impressed and happy with the service we received. The technician went above and beyond to make sure our electrical issue were resolved, fixed and safe for our home. He was a really cool guy! I would definitely recommend this company for any home or business owner. Their work quality and desire to provide customer with superb service is to be commended.
- Shantell K.